Fumigated Wooden Pallet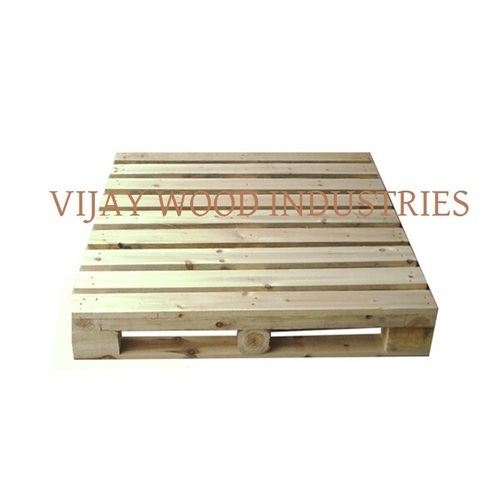 Fumigated Wooden Pallet
Product Specifications
Fumigated Wooden Pallet

Wood
Product Description
A fumigated wooden pallet is a type of pallet that has undergone a fumigation process to eliminate pests, insects, and pathogens. It is commonly used in shipping, logistics, and storage industries to securely transport and store goods. Fumigated wooden pallets are treated with approved fumigants to meet international standards and regulations, ensuring the eradication of pests that could potentially harm the goods or spread to other locations. These pallets are sturdy, durable, and can be safely used for various applications.
FAQs:
Q: What is a fumigated wooden pallet?
A: A fumigated wooden pallet is a pallet made from wood that has undergone a fumigation process. Fumigation involves the use of approved chemicals or fumigants to eliminate pests, insects, and pathogens present in the wood. The purpose of fumigating wooden pallets is to prevent the spread of pests and ensure the safe transportation and storage of goods.
Q: Why are wooden pallets fumigated?
A: Wooden pallets are fumigated to eliminate any pests or insects that may be present in the wood. Pests such as termites, beetles, or fungi can infest wooden pallets and potentially damage the goods being transported or stored. Fumigation helps eradicate these pests, ensuring the pallets are pest-free and meet international phytosanitary regulations.
Q: How is fumigation of wooden pallets done?
A: Fumigation of wooden pallets is typically carried out by certified professionals or pest control experts. The pallets are placed in a fumigation chamber or enclosed space, and a fumigant gas or chemical is introduced into the chamber. The fumigant penetrates the wood and kills any pests or insects present. The process is conducted following specific guidelines and regulations to ensure the safety and effectiveness of the fumigation.
Q: Are fumigated wooden pallets safe for use?
A: Yes, fumigated wooden pallets are safe for use. The fumigation process is carried out using approved chemicals or fumigants that are regulated and deemed safe for use. These chemicals are chosen to effectively eliminate pests while posing minimal risk to human health and the environment. After fumigation, the pallets are thoroughly ventilated to remove any residual fumigants, ensuring their safety for handling and use.